Get more points fast
Get noticed! Increase your score now.
Want to see you appear at the top of the bill? Your score is the determining element of your position in the search ranking. Members at the top of the ranking are supported by 2PS through conferences, articles, videos, social networks etc.... A better score is also the possibility to get special promotions or discounts on your member account.
Your score is based on two types of points: experience and sharing points.
So how do you get more points?


Clients
The best and quickest way to win points.
The Network Fees are supporting the functioning of the 2PS Network. Your Ambassador and you Regional Manager receive a share of the Network Fees due to any amount you will report or invoice. Network Fees also contribute to promoting activities.
In the "Play Nice" menu select "Earn points" to report income you did thank 2PS, or to bill through 2PS invoicing system.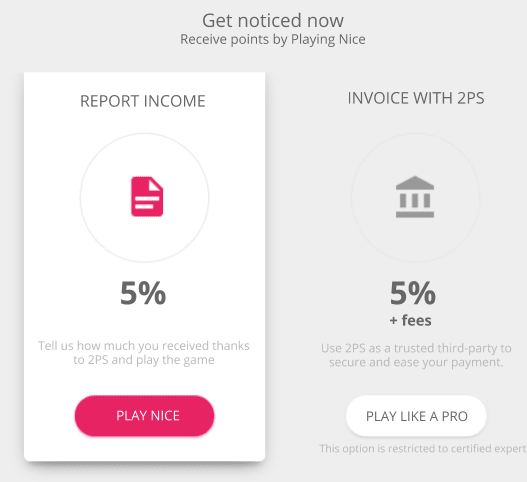 When a client pays an invoice you sent through 2PS invoicing system, or when you pay the Network fees related to an Income Statement, it gives you a corresponding number of skill points.
If you want to reward another member for this amount ( i.e. you appreciated to work together or you had this client thanks to an introduction), you can add his/her name in the "Play Nice" section. The corresponding number of sharing points - this time - will be given to the expert you named. In short, you receive skills points and your fellow member receive sharing points.
Skill point or sharing point?
The rule is simple: Sharing points are obtained by taking actions in the interest of others - Skills points are obtained by concretely demonstrating your professional expertise.
Serve a client to get skills points.
Refer clients to other experts to get sharing points.
Bonus points
Contributing to the 2PS community success.
As mentioned above, referring a client to another consultant is the best way to quickly get sharing points. But it is not the only one.
Attending 2PS events, co-writing an article or co-hosting a conference during a 2PShow gives you bonus points. 2PS encourages pro-social actions and gives you points to reward positive behaviors.
For each area where there is an ambassador, an exclusive Facebook or LinkedIn group has been created. If you haven't joined already do so either by searching and applying or asking your ambassador to add you. Occasionally 2PS will offer additional points for a certain action for a limited period of time. This information will be published in the secret group for your region.
Points are important
The score reflects not only the actions but also the status of a 2PS member. The points are very valuable to establish a good reputation and allow:
to identify those who promote collaboration, in order to propose them new roles in the community,
to automatically select those who will receive Leads requests,
to promote most successful members through conferences, articles, videos, interviews, eBooks etc.
This table lists all the possible actions you can perform and what point amount you earn for successfully performing the action.