Our CEO speech at "Reinventing Organizations" conference
Creating Organizations Inspired by the Next Stage in Human Consciousness
event_available Other
visibility Public
event November 17, 2017 10:45 AM (2 years ago)
Reinventing Organization international conference wish to engage a reflection on novel models of organizations emerging in response to the constant limits of the traditional dominant management models. Inspired by Frederic Laloux's vision in "Reinventing Organizations: A Guide to Creating Organizations Inspired by the Next Stage in Human Consciousness" (2014), the speakers hope to heighten awareness of the legal system to consider a necessary change in practices to sustain those new organizations. We will explore how law practices and the legal system can be helpful in allowing for approaches that are less conflict driven and more value-laden to benefit of the clients, the law professionals and society as a whole. We will address issues as: Integrative Law, Conscientious contracts, new organizations/management models.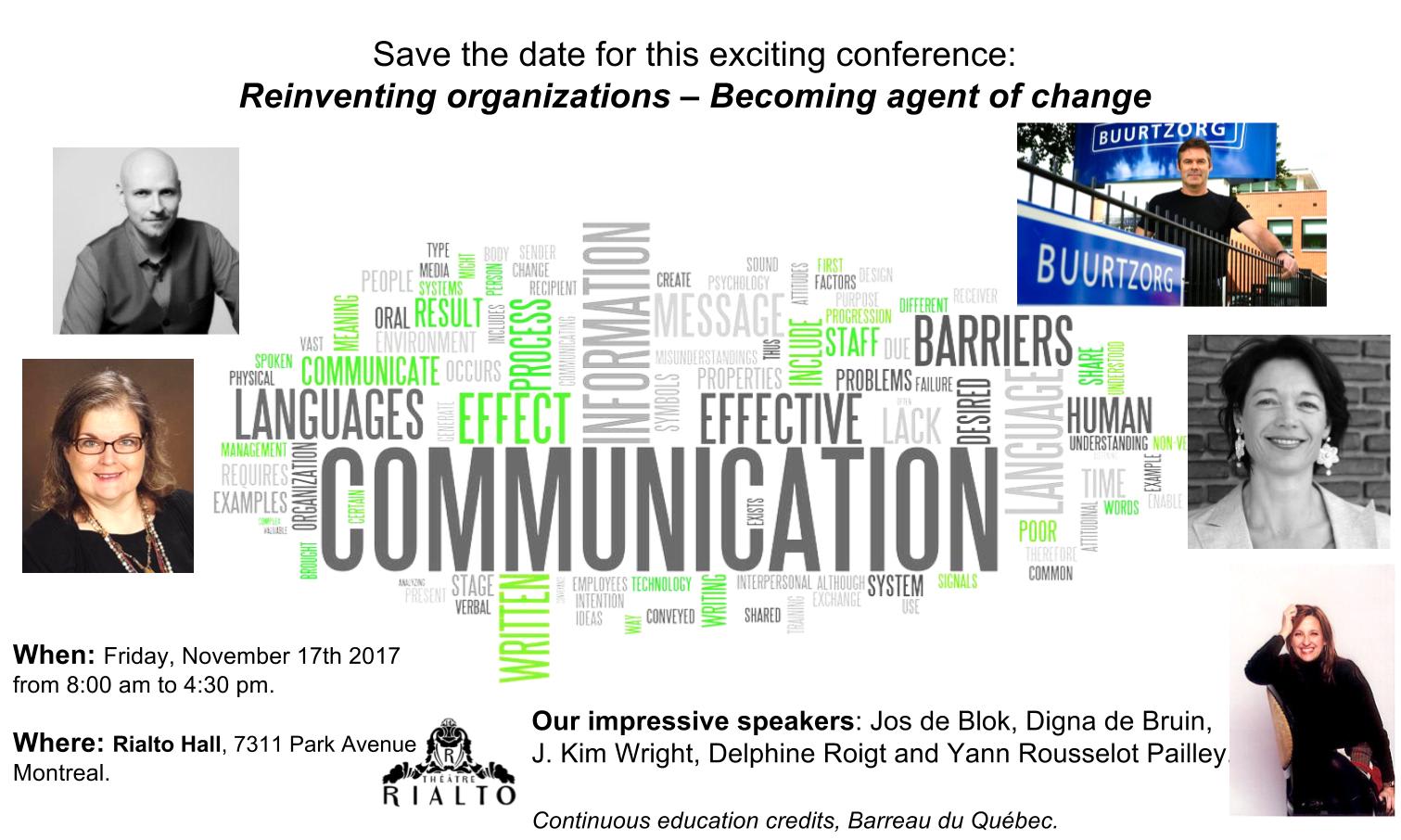 In his presentation our CEO Yann Rousselot-Pailley will talk about why some change in organizations is inevitable and why networks and gamification are at the root of this change :
1. What is a human network?
2. Why networks will take precedence over hierarchical systems.
3. What can we learn from online games urging self-organized human groups?
4. How the advisory industry is affected and how the consulting practice will change?
2PS members and clients are invited to attend this event at a discounted price.
ABOUT THE CONFERENCE
Welcome and Registration: 8h00-8h30
8h30 à 9h00 Delphine Roigt
9h00 à 10h30 Kim J Wright
10h30 à 10h45 Break
10h45 à 11h45 Yann Rousselot-Pailley
11h45 à 13h00 Lunch
13h00 à 14h30 Digna et Jos
14h30 à 14h45 Break
14h45 à 15h30 Digna et Jos
15h30 à 16h30 Panel
J. Kim Wright
Lawyers as Peacemakers and Changemakers: Integrative and Problem-Solving Approaches for Evolutionary Lawyers "There is a lot about our current legal system that is broken or could be improved. There are people working in those areas of reform and I am glad they are. My own attention is turned toward those who are building a system that works for all beings, one that is based on interconnectedness, an evolving consciousness, purpose and value, reflection, and personal integrity."
Objectives:
Participants will learn about cutting-edge developments in law. These developments include new ways of engaging with clients, new models, and new approaches to law which reflect the shifts in business, healthcare, human resources, economics, and media. We will explore the skills needed for a 21st Century lawyer and showcase some of the Canadian lawyers who are leading the way.
Participants will see the connection between personal purpose, values, and legal innovation. They will see new possibilities for satisfaction in a legal career and new appreciation for the role of lawyers as changemakers in society.
Participants will be inspired to explore alternative approaches to legal practice that align with their purpose and values.
They will engage with the ethical and professional objections to change in law and resolve the challenges that present themselves.
Digna De Bruin et Jos de Blok
Is your company/law practice future proof? How to use the power of consciousness, awareness, transformation, and attunement to the benefit of the client while contributing to creating sustainable solutions?
"The Dutch approach, inspired by the Dutch company Buurtzorg, is worldwide accepted. It consists of a multidisciplinary down to earth way of solving problems, attunement to individuals involved and to the context of the problem. Integrating simplicity and empowerment of the clients are important components of my vision. This means that people are often able to solve their problems themselves. If not, they get the support of lawyers and mediators who work together with the client and other professionals as a team.
The lawyers/mediators have a problem-solving mindset, excellent communication skills and they work for a reasonable price. Everybody has access to legal aid."
In our presentation, we focus on the following questions and we give the participants insight and we expect to create awareness how to deal with strategic, tactical and operational topics:
1. What is the concept of conscious contracting and what are the main elements?
2. Introduction of Buurtzorg, an example of a teal organization. An overview on how Buurtzorg works.
3. The client's perspective: advantages for the client when they chose to work with conscious contracts? What are the advantages to work with a teal lawyer?
4. Practical experiences and examples from Buurtzorg with conscious contracts/teal lawyering.
Delphine Roigt
Law leads to everything… as long as you get out of it! What is our intention and purpose in tomorrow's society?
A short introduction to why I organized this event and what I believe the role of Law and its practitioners is in order to face the upcoming challenges within the current models of organizations, management and relations amongst human beings.
---
Registration: 550$ Places limited
Students: 125$ Places limited*
2PS Members : 250$ Places limited*
Including lunch and breaks (*lunch not included in student rate)
When: November, 17th 2017. From 8:00 AM to 4:30 PM.
More info : Delphine Roigt delphine.roigt@videotron.ca
Organization
2PS Call & Lunch - Gouvernance collaborative
phonelink_ring C4ll visibility Public
Les leviers de la transformation - Initier et construire ensemble
2PS Call & Lunch - Gouvernance collaborative
phonelink_ring C4ll visibility Public
Les leviers de la transformation - Initier et construire ensemble
2PS DEJ' - Lyon
local_bar M33tup visibility Public
Parce que rien ne vaut le lien humain, rejoignons-nous pour le déjeuner à Lyon!