CEO for Hong Kong Branch
Posted date
6 months ago (October 1, 2018)
Due date
in 5 days (March 30, 2019)
Industry
Management Consulting
Description
2PS is a collective of independent business and management consultants. Our league-based organization - moderated by facilitators and local matchmakers - merges the power of personal relationships with the strength of an international network.
BECOME A 2PS BRANCH MANAGER
Are you a self-motivated leader that has the ability to cultivate our Play Nice culture and grow our brand? If you are energized and a collaborative team player who relishes the challenge of attracting and motivating top talent to learn, grow and achieve success then we want to hear from you!
2PS, a leader in the management consulting industry with more than 650 independent consultants and growing has an immediate opening for a Regional Manager.
We are looking for a confident leader, that can build a team enabling them to perform and provide a positive and collaborative atmosphere. You are business minded with the ability to analyze and execute plans of action to ensure top performance and optimize results.
This is a great opportunity for an ambitious individual to obtain a master franchise 2PS license. Reporting to the 2PS HQ in Canada, you will be centrally located in Hong Kong.
This is not an employee job. You will be a Licensee. As an entrepreneur, you will have your own consulting business and the freedom to grow it.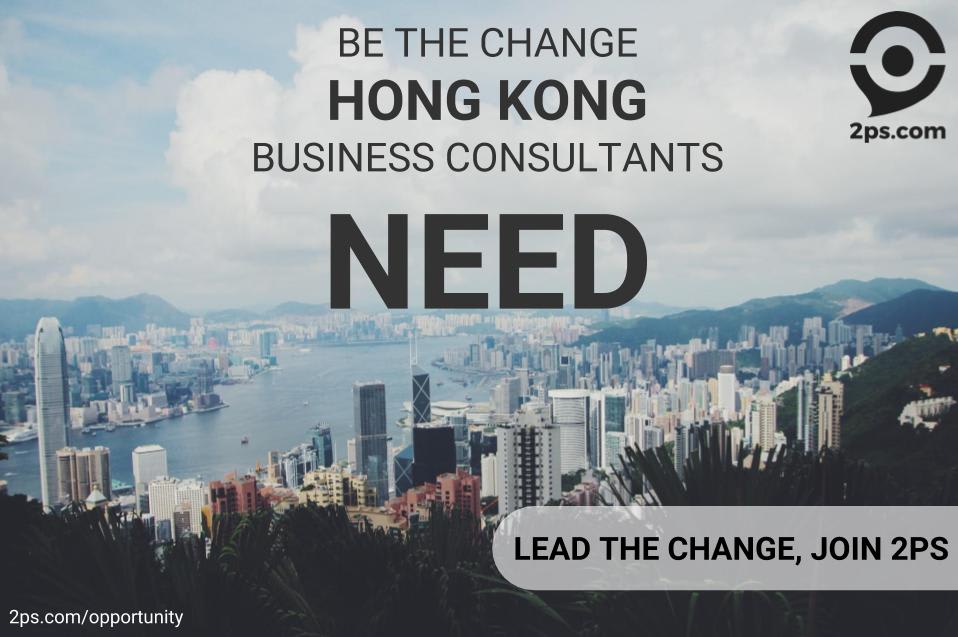 KEY RESPONSIBILITIES:
You have the capacity to manage people. You are an innovative thinker that can attract, develop and mentor top independent management and business consultants, with the support of 2PS Staff in Canada
You're analytical and optimization is top of mind. You work closely with your League's members to successfully develop consultancy offers adapted to local business owners and decision-makers.
You maximize sales and implement growth strategies to improve overall league performance leading the way with innovation and change strategies.
Meet financial objectives by analyzing profit and loss statements, forecasting, planning and taking accountability ensuring your locations meet their budget goals and taking action as necessary.
You are disciplined and can set expectations and timelines. You evaluate information and troubleshoot to reach your team objectives.
You enjoy being able to share your knowledge and experience to help others, a professional coach and mentor with amazing communication skills.
Self-motivated, versatile and flexible. You are a natural problem solver that leads by example and the first to show the way with organizational change.
You are the picture of professionalism when representing 2PS at all times, you can communicate at all levels and represent our Play Nice brand.
QUALIFICATIONS:
Great sales skills, you know how to sell services to business owners and convince them to trust your team.
Three to five years of management experience, preferably in the business to business services or in the consultancy industry environment.
Professional, innovative leader that can direct change management and deliver results.
Available to work flexible hours (including evenings and weekends).
You're organized, you're a multi-tasker with strong time management skills.
Community animation guru, you can attract, coach, develop and implement a top performing positive team that stays true to our brand.
Networker, you know how to organize successful events.
You know your way around a computer and you're comfortable learning new applications and systems.
DETAILS:
If you're someone who is looking for a fast-paced, fun yet challenging environment where you can make an integral impact on a growing organization, we want to hear from you. The license model allows you to use 2PS brands and tools to create your own consulting firm inside 2PS global network.
License cost is $7000 USD/year
First-year setup costs and on-site training support is $25000 USD/year
2PS branding usage allows you to do anything your entrepreneur spirit let you imagine: from an informal community of telecommuters to physical boutique or coworking space.
INCOMES AND R.O.I:
Since you are an entrepreneur the income depends on you but for the first year, you can expect $75 000 USD to $150 000 USD.
Local managers: 20% of reported income
Brokerage: $5000 to $10 000 per year per consultant
Consultants Membership: 20% of annual costs
Consultants Network fee: 20% of reported income
Specialists and partners Memberships: 20% of annual costs
We encourage you to visit our website to learn more about this opportunity at https://2ps.com/regional-manager/
---