TRICKS TO GET A 2PS PREMIUM ACCOUNT FOR FREE
Hidden tricks to get access to 2PS full potential for free
Today we share with you a trick to get your 2PS premium account for free. As you know, 2PS is one of the first alternatives to consulting firms, to fight the professional loneliness of independent consultants. There are awesome services that 2PS provide you online and offline. The demand for 2PS service is increasing day to day, but you can't get access because you don't have a GO membership 😭
So today we decided to share this hack to get you own 2PS GO account for FREE!
2PS has developed a very interesting referral program. Click "Play Nice" and select "Refer an expert" to get access to it.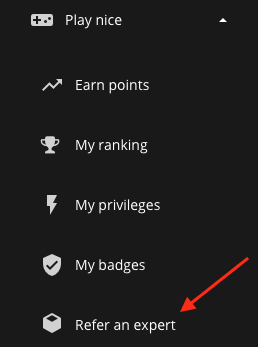 The referral program allows you to invite new members and track their activities. Each referral that subscribes to their first membership through this link will give you a treasure box.
However, each box contains a small discount on premium accounts. Few people know it, but if you collect and open the 12 Treasure Boxes, it gives 100% off! Yes, it means a FREE account.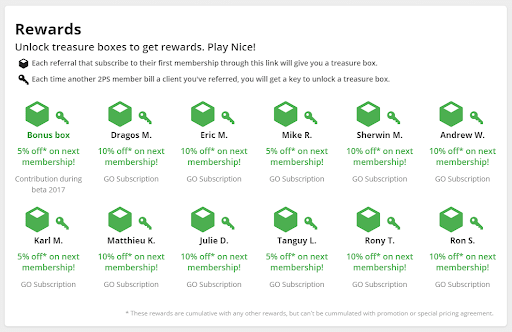 Moreover, collecting all the boxes is actually very simple, and anybody can do it. Here is what you should do now to get your free account:
1. Share your referral link on Social Networks
Even if you have a limited network, finding 12 experts interested in joining 2PS is simple. Share your referral link as much as you can on the social network (i.e LinkedIn, Quora ...)
2. Email your referral link
Of course, you can send your link to targeted experts. However, increase your chances to get boxes including your referral link in your signature.
3. Post your link on the web
If you have a website, you can proudly display the 2PS logo on it and add a link to your referral link. If you do not have a website, you could consider having one Landing page to improve your personal branding. You can freely create a simple landing page with one of these no coding required tools :
wix.com
tylio.com
weebly.com
One more thing
Some people subscribe to a trial account and are taking their time to subscribe a premium account. It is an opportunity to convince them to join 2PS and get more boxes. Find them (Welcome M33TUP or on the platform) and send them your referral link because the person who gets the Treasure Box is the last "referer" - make sure it will be you 😏. It's so easy to get your free 2PS premium account thanks to the referral program.